One of the most prominent sounds in an MCCSF worship service was the singing. Individuals sang solos, choirs sang anthems, and the community as a whole joined their disparate voices together to proclaim their hopes and bolster their faith. For many who attended MCCSF, the singing is what got them through those hard, hard times.
Kevin Fong describes being a young man of color in the largely white Castro District and what "singing for our lives" meant at MCCSF. Interview by Arianna Nedelman.
The songs a congregation sings and the ways it sings them reflect its theological commitments and its social identity. In a congregation like MCCSF, singing a range of hymns in different styles helped congregants from different Christian traditions feel at home. In a congregation trying to affirm the faith of people often ostracized from Christian community, singing became a way to affirm the legitimacy – and, at times, the salvation – of LGBTQ Christian believers. Hymns also gave MCCSF congregants ways to grapple with classic themes of Christian faith in a moment when they were highly salient – themes like illness, death, and the afterlife.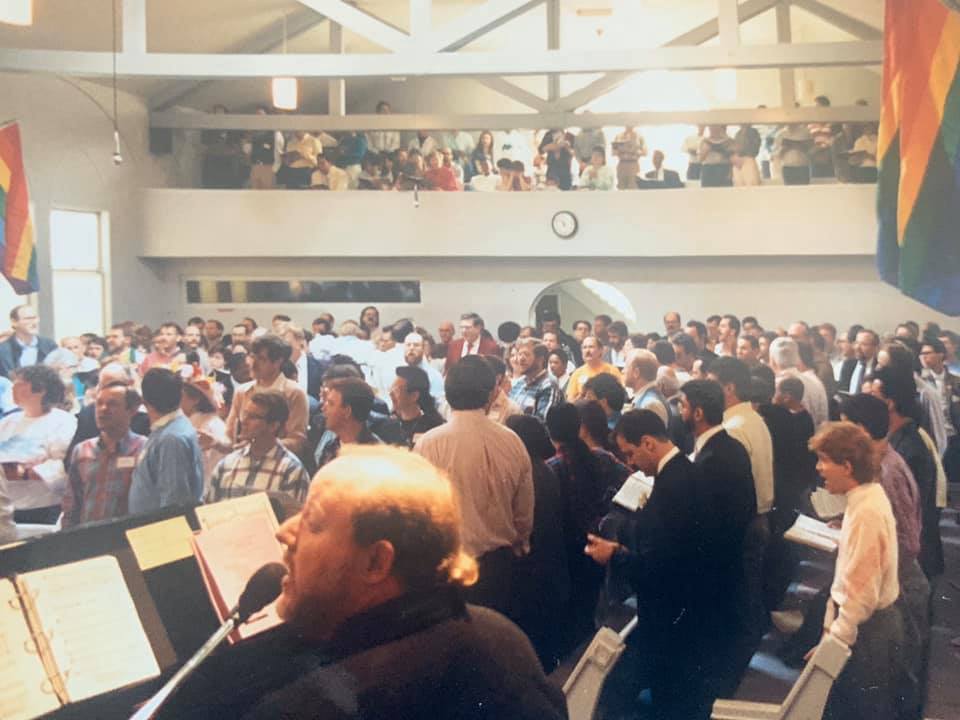 A full sanctuary at MCCSF, Easter 1988. Photographer unknown. Courtesy of Jim Mitulski.
The worship leaders at MCCSF were fluent with a wide range of Christian hymnody, from "high church" to "low church" traditions, as well as with songs from musical traditions beloved by the gay community in the Castro, such as Broadway musicals, 20th century folk music, and its descendent, women's music. They combined them in thoughtful ways, creating a community of singing rooted in tradition while expressing the needs and longing of the current moment.
I'll Fly Away, sung here on November 28, 1993, is a classic American gospel song. Written in 1929 by southern gospel writer Albert Brumley, it was quickly adapted by congregations in many Christian denominations. It has been recorded by academic musicologists like Alan Lomax, gospel musicians like Selah Jubilee Singers, and country singers like Alison Krauss and Gillian Welch. It's a lively, engaged, get-on-your-feet song with a more popular feel.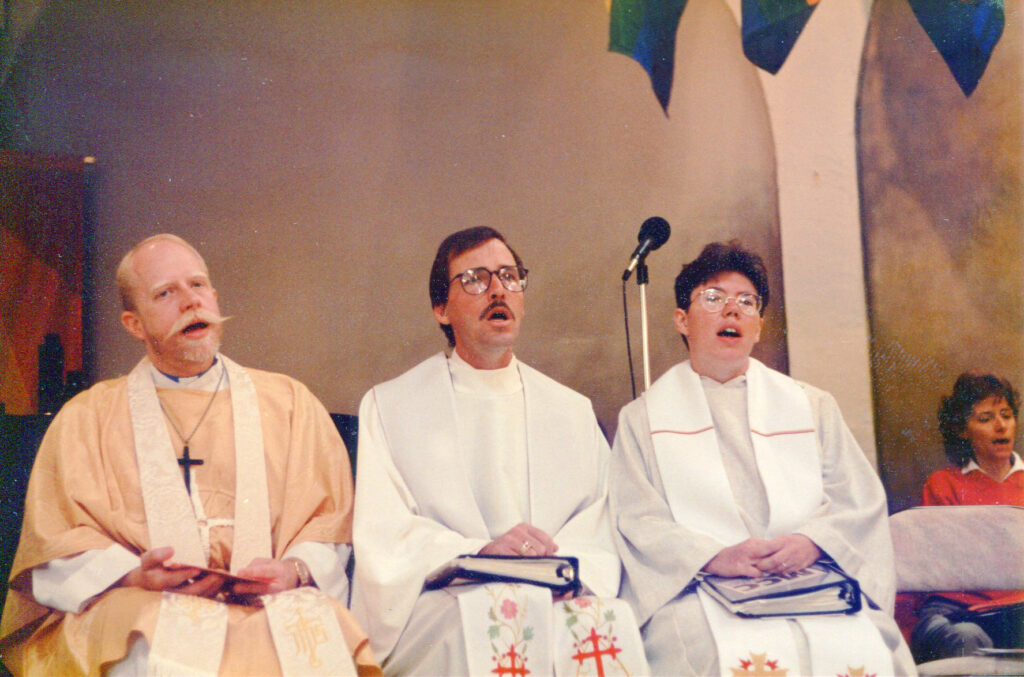 Left to right: Rev. Michael England, Rev. Ron Russell-Coons, and Rev. Kittredge Cherry, August 6, 1989. Photo by Audrey Lockwood. Courtesy of the Kittredge Cherry and Audrey Lockwood Collection
Abide with Me, sung here on March 29, 1992, is an older song with a more formal tone and style. It was written in the nineteenth century by Henry Francis Lyte, a Scottish Anglican, when he was sick with tuberculosis and contemplating his own death. The song is published in numerous hymnals, mostly those used within mainline denominations, but is less popular outside church circles.

The contrasting styles of these two hymns reflect some differences of theology and liturgical style within Christianity that MCC congregations worked weekly to integrate. But the songs' common themes of the sufferings of life, the inevitability of death, and questions of what lies beyond reflect how MCC congregants drew from the spiritual resources of Christian hymnody and popular theology to engage their own existential crises in the face of an epidemic.