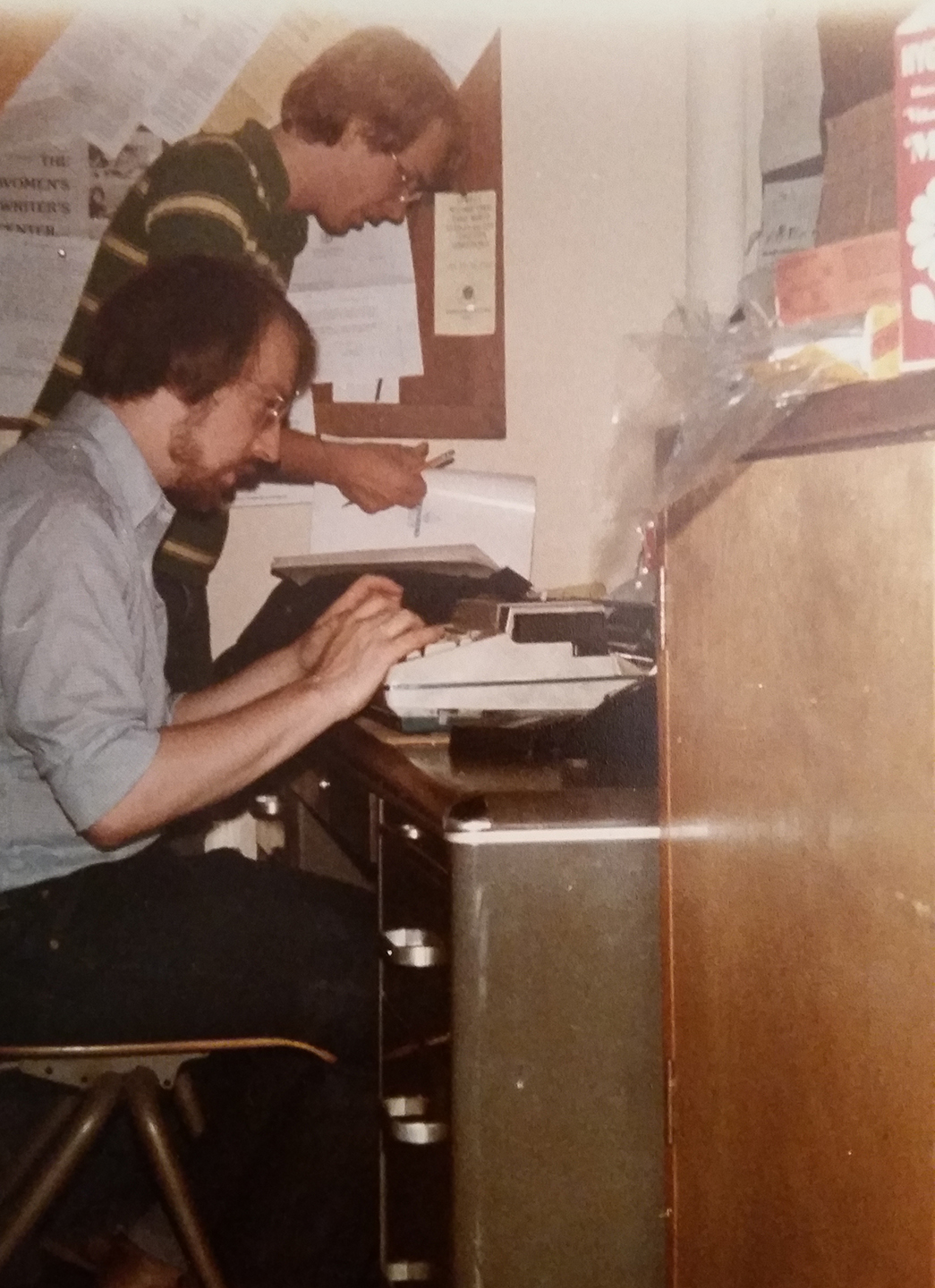 Bob Crocker and Jim Mitulski typing a worship bulletin for MCC New York, circa early 1980s. Photo by Steve Carson. Courtesy of Steve Carson.
Exhibit Design and Production by Alison Furlong & Lauren Pond
We were able to create this exhibit because MCC San Francisco recorded their worship services and kept the recordings. Throughout the AIDS crisis, church deacons made regular visits to people too sick to come to church and brought them communion. In 1987 they started recording worship services so that people who couldn't be there in person could hear the services and be with the congregation via cassette tapes.
The congregation's collection of tapes was almost destroyed when they left their building at 150 Eureka Street in 2007. One long-time member saw that boxes and boxes of cassette tapes were piled alongside the garbage and personally retrieved them, storing them under an elevated floor in the building's sound room. In 2011, he told historian Lynne Gerber about the tapes and, with the help of a team of UC Berkeley undergraduates, she cataloged their collection of 1200 tapes and digitized 325. The clips used in this exhibit come from that digitized collection.
This project is possible only with the ongoing, ever-faithful support of MCC San Francisco and its current leadership: Rev. Annie Steinberg-Behrman and Rev. Michael Cronin. MCCSF's congregational historian Lynn Jordan has been a vital collaborator at every turn, always available to answer a question, do an interview, or mine the internet for obscure articles on MCCSF-related topics. We've also learned a tremendous amount from the dozens of current and former MCCSF members and leaders that we've interviewed over the years. We've benefited so much from their kindness and their candor – we're always in their debt.
We've also had the support and encouragement of academic colleagues.
Kent Brintnall, Heather White, and Sarah Quinn
reviewed project drafts and endured many phone calls. Megan Goodwin connected us with the American Religious Sounds Project. She, Liz Bucar, and the Sacred Writes 2020 cohort have helped us think about our work in new, broader ways. Ann Braude, Tracy Wall, and the Women's Studies in Religion Program at Harvard Divinity School gave us the space and time to see if there was a project here and how to develop it. We're so very grateful to everyone at the American Religious Sounds Project for seeing the potential in this piece and helping us realize it. And thanks to everyone who gave us feedback along the way.
All of the archival audio in this exhibit is from the Metropolitan Community Church of San Francisco's sound archive and is used with the church's permission. The archive is in the process of being donated to the San Francisco Public Library and will be available to researchers in 2022.

We are also grateful to the following organizations for allowing us to use images from their collections: The Baltimore Sun; the Gay, Lesbian, Bisexual, Transgender Historical Society; the Graduate Theological Union; San Francisco State University; Kittredge Cherry and Audrey Lockwood; Steve Carson; Kevin Fong; Rev. Jim Mitulski; and Rev. Jane Spahr. The Kittredge Cherry and Audrey Lockwood collection is in the process of being donated to the University of Iowa. Bob Crocker was generous with his help in tracking down the sources of the exhibit's music.