I would like to thank the American Religious Sound Project, Ohio State University, and Michigan State University for giving me the opportunity to work on this project. My gratitude extends to Isaac Weiner, Amy Derogatis, Pamela Klassen, Tracy Fessenden, Alison Furlong, Kristen Mapes, and fellow interpretive scholars for their generous feedback, encouragement, and invitations to be brave during meetings. Importantly, I want to thank Lauren Pond for her patience and expert hand in technically and gracefully translating my ideas into this exhibit, and Mr. Nubbins for joyfully chirping his feedback to me. This project would not have been possible with the collaborations and camaraderie of Marcus Zacharia, Mariam Abdelmalek, Carol Markos, Fr. Pishoy Salama, Evronia Azer, Nardine Nader, Mariam Andrawis, Matta Ghaly, Olga Misdary, Diana Ramzy, and Lydia Yousief. I especially want to Mariam Youssef who has co-walked with me as an accomplice from the very beginning of this project's inception and helped me realize the @copticwomensingtoo on Instagram. Finally, I want to honour and acknowledge all the people who have also requested to stay anonymous, well aware of the risks of speaking publicly about Coptic women's and gendered experiences in the Orthodox Church. I dedicate this work to all the missing and quieted voices who continue to practice forms of what I call "sonic veiling" in their individual churches, diocese, or personal spaces. You are not alone: Coptic women sing too.

Exhibit Design & Production: Lauren Pond
Navigation: Alison Furlong
Armanios, F. "The 'Virtuous Woman': Images of Gender in Modern Coptic Society." Middle Eastern studies 38, no. 1 (2002): 110–130.
Armanios, Febe, and Andrew Amstutz. "Emerging Christian Media and Egypt: Clerical Authority and the Visualization of Women and Coptic Video Films."
International journal of Middle East Studies
45, no. 3 (2013): 513–533.
Badran, Margot. Feminists, Islam, and Nation Gender and the Making of Modern Egypt. Course Book. Princeton, N.J: Princeton University Press, 1995.
Brinkerhoff, Jennifer M. Digital Diasporas : Identity and Transnational Engagement. Cambridge ;: Cambridge University Press, 2009.
Doorn-Harder, Pieternella van. Contemporary Coptic Nuns. Columbia, S.C: University of South Carolina Press, 1995.
Hoffman-Ladd, Valerie J. "Polemics on the Modesty and Segregation of Women in Contemporary Egypt."
International Journal of Middle East Studies
19, no. 1 (1987): 23–50.
Ramzy, Carolyn M. "To Die Is Gain: Singing a Heavenly Citizenship Among Egypt's Coptic Christians." Ethnos 80, no. 5 (2015): 649–670.
Ramzy, Carolyn. "Repatriating an Egyptian Modernity; Transcriptions and the Rise of Coptic Women's Song Activism," Oxford Handbook of Musical Repatriation, edited by Robert Lancefield, Bret Woods and Frank Gunderson (Oxford University Press): 403 – 419.
Ramzy, Carolyn M. "Singing Heaven on Earth: Coptic Counterpublics and Popular Song at Egyptian Mūlid festivals" International journal of Middle East studies 49, no. 3 (2017): 375–394.
Youssef, Mariam.
"Chanting for Change in the Coptic Church"
The Junia Blog Project. September 30, 2014. Youssef, Mariam.
Gendered Paradigms In Theologies Of Survival; Silenced to Survive
. New York: Lexington Books, 2019.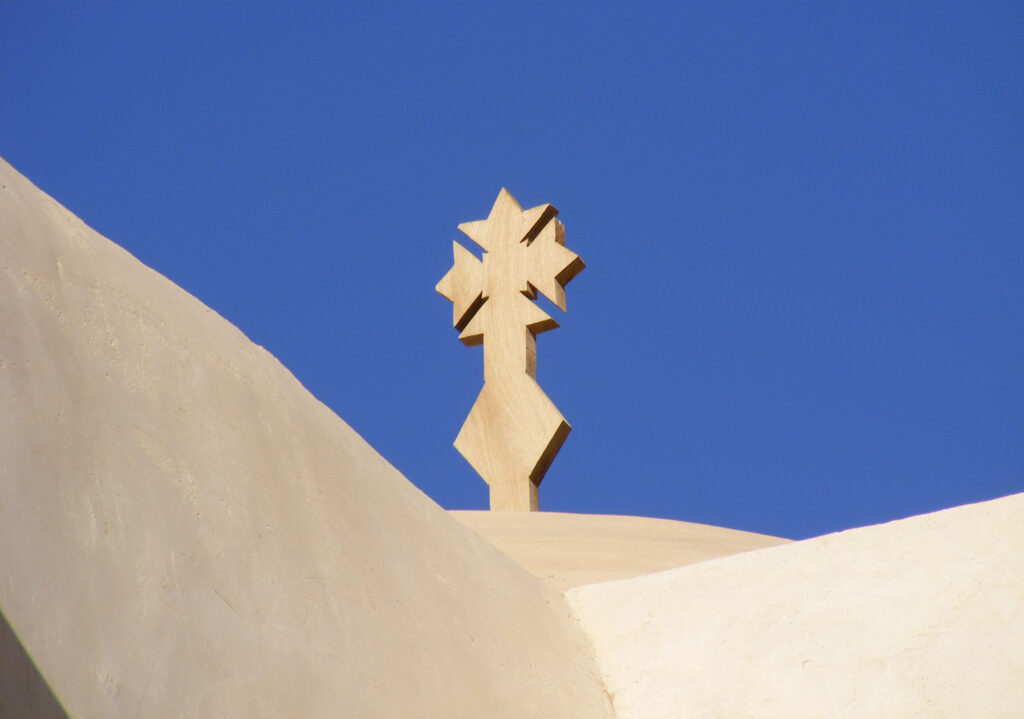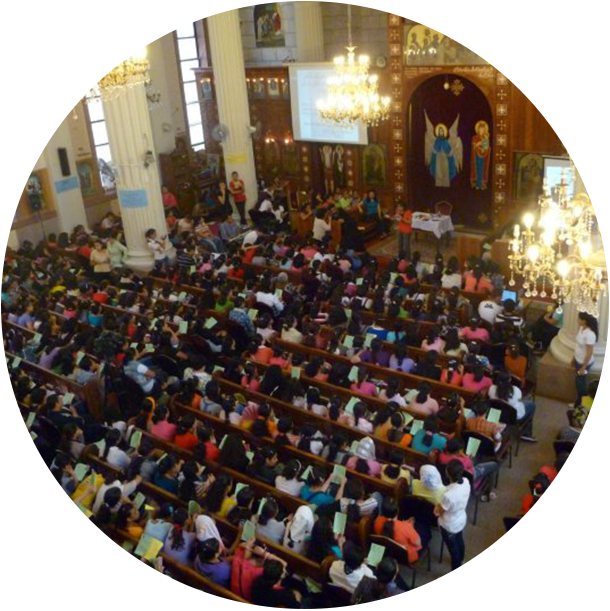 A Coptic cross sits on the dome of one of the churches in the Wadi El Natrun region of Egypt, a desert valley that hosts several significant Coptic Orthodox monasteries such as the St. Bishoy Monastery and the St. Macarius monastery. The Coptic diaspora is beginning its own monastic traditions in North America, including convents for Orthodox nuns in Canada and in the United States.