The sanctuary of Plymouth Church UCC, Milwaukee.
Like many liberal, mainline congregations,
Plymouth Church
– a progressive United Church of Christ congregation in Milwaukee, Wisconsin – prominently displays an LGBTQ flag on its sign, and its sermons and bulletins are replete with announcements about opportunities for social activism. However, sound complicates this perhaps stereotypical understanding of progressive religion.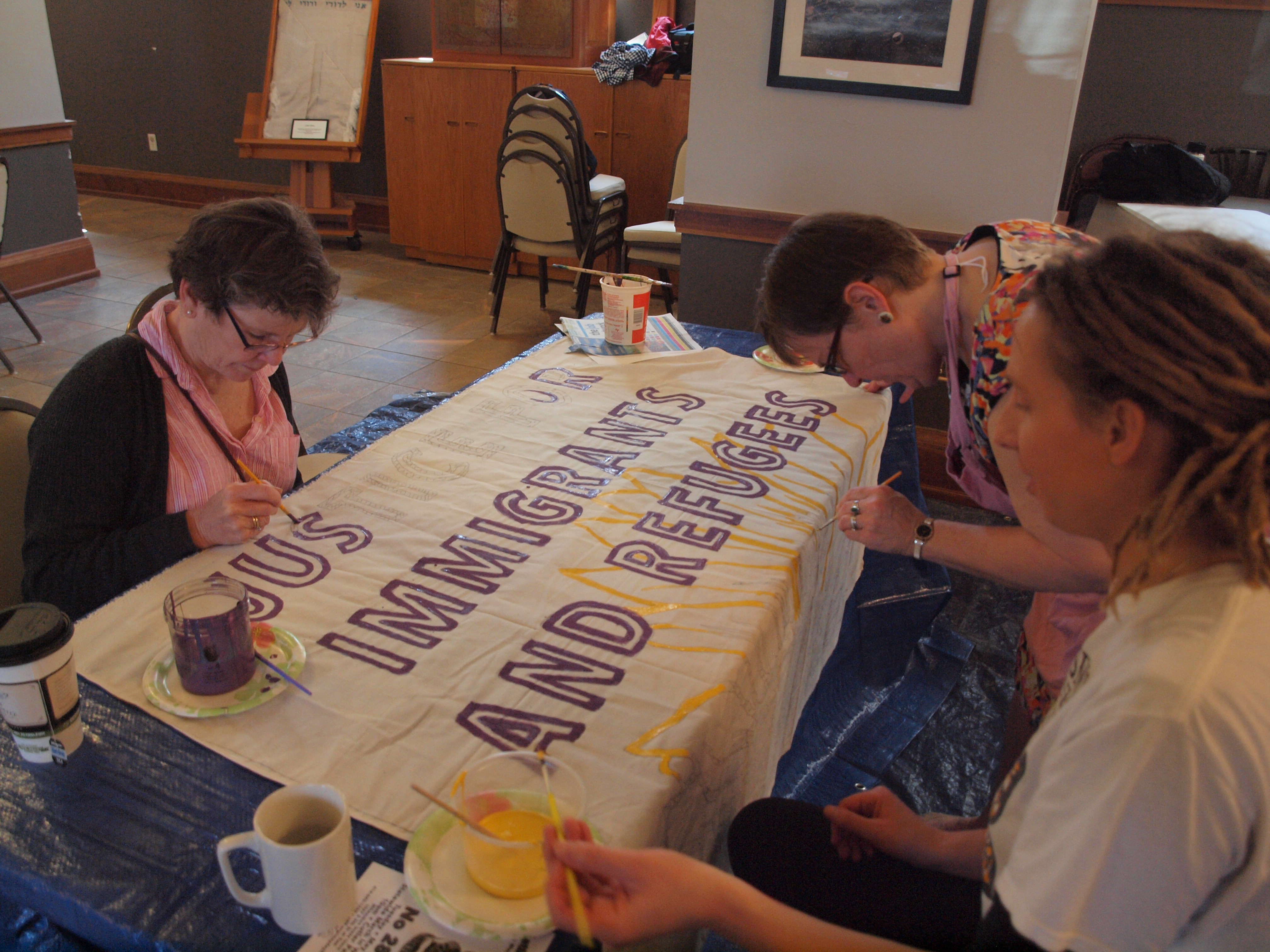 Members of Plymouth Church UCC, Milwaukee prepare banners for an upcoming rally in support of refugees. 
Like many congregations, Plymouth publishes its sermons on its website. In an interesting twist, Plymouth's pastor, Andrew Warner, also publishes the texts of his sermons online. If someone were to study Plymouth solely based on the texts of these sermons, they would be able to construct an entirely predictable portrait of a mainline congregation that is committed to liberal politics. An April 2018 sermon on the ways we perceive the person of Jesus, for example, makes an explicit reference to supporting refugees in America: 
But in a field recording of this service, what comes across as the sermon's highlight is an off-the-cuff remark made at the beginning. While illustrating how Christians tend to romanticize Jesus's love through hymns like "He Walks with Me in the Garden," Pastor Warner pauses after reading the line "And the joy we share as we tarry there / None other has ever known" and remarks, "Actually, I've known men arrested for that in the park." The congregation laughs at the line, and then the minister continues. The rest of the sermon focuses on how an expansive conception of Christ's love should compel Christians to identify with those in need. As expected, standard mainline, liberal Protestant fare.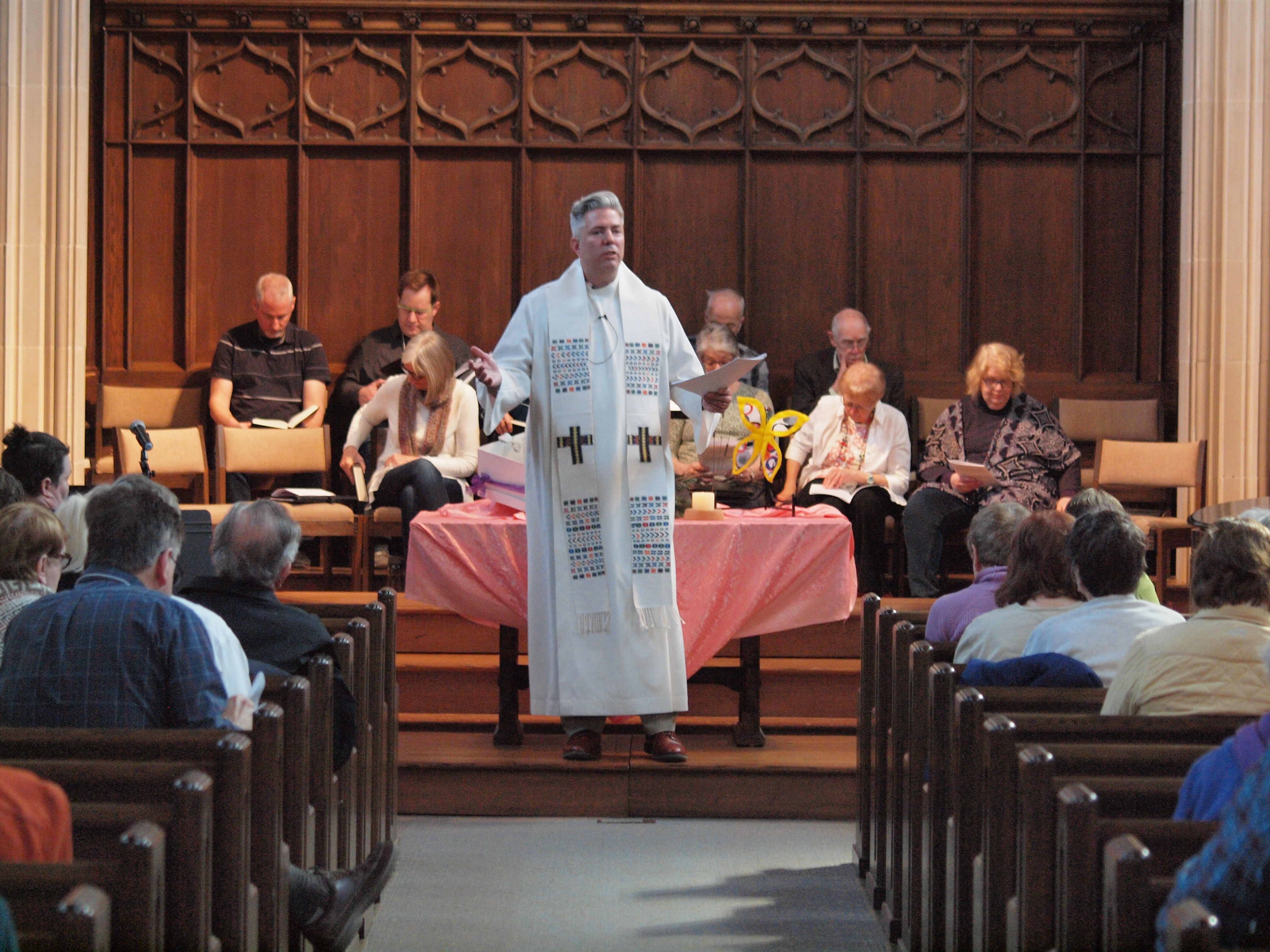 Pastor Andrew Warner speaks during a worship service at Plymouth Church UCC, Milwaukee. 
It is clear that this spontaneous moment has as much meaning as the broader message of the sermon itself. It reveals both the congregation's familiarity with the hymn, as well as its understanding of the practice of "cruising" for sexual encounters in public parks, which gay man often did in times when knowledge of their sexuality brought discrimination. It also makes clear that the community found the pastor's remark to be humorous and not shocking or sacrilegious.


Why the community finds the joke to be humorous is a matter in need of greater scrutiny. Does it signal the community's belief that they had grown beyond a supposedly retrograde religious sensuality? Or is it a demonstration of the congregation's diversity or cultural sophistication? The answers of such questions hopefully will emerge when this laughter is put in conversation with other sources from the church's history. But it is important to note that none of this information would be available to scholars studying only the sermon's printed version. Nor would even an official recording of pastor Warner's sermon have picked up this information, as the minister's microphone would have lost the sounds of the crowd. But by capturing the audience's reaction to a sermon, sound reveals a great deal about the culture of this community.
Audio recording by Christopher D. Cantwell and Catherine Abbott
Photography by Jordan Heller
Exhibit design and production by Lauren Pond