Religion is often portrayed as a static entity or as something that's confined within the four walls of traditional institutions, such as churches, mosques, temples, and synagogues. However, a growing number of niche evangelical Christian ministries focus on "meeting people where they are": transporting their message to the diverse environments where people spend their time, both for work and leisure. A sonic exploration of these so-called "mobile ministries" reveals how they have integrated themselves into a variety of locations and cultures, and how they have tailored their efforts to reach specific audiences.
Sounds of the Transport for Christ mobile chapel and the TA Travel Center in Seville, OH (pictured above), where it is parked.
Founded in 1951, Transport For Christ (TFC), an international trucker ministry, aims to "lead truck drivers as well as the trucking community to Jesus Christ and help them grow in their faith." As part of this effort, TFC has strategically placed dozens of so-called "mobile chapels" (semi-tractor trailers-turned houses of worship) at major truck stops across the nation. Chaplains offer worship services and Bible study sessions for drivers passing through, and for anyone else who wants to join in.

"It's kind of like McDonalds," said TFC chaplain Jason Nussbaum. "You go where the people are going to be."

The chapel that Nussbaum oversees sits in the parking lot of the TA Travel Center in Seville, Ohio, which is located beside interstate 71, a major thoroughfare for truck drivers. Here, volunteer chaplains are available 24 hours a day, seven days a week. Mud flaps reading "Jesus is Lord" cover the wheels; inside, Bibles sport an image of a semi-tractor trailer on their covers. Christian trucker hats are for sale, and chaplains, dressed casually in jeans, could pass for drivers themselves.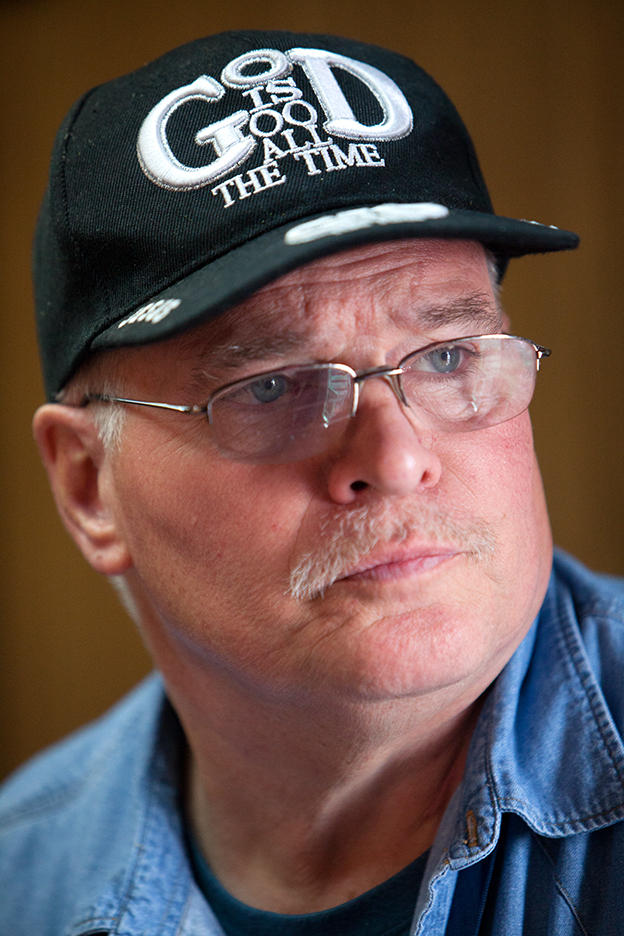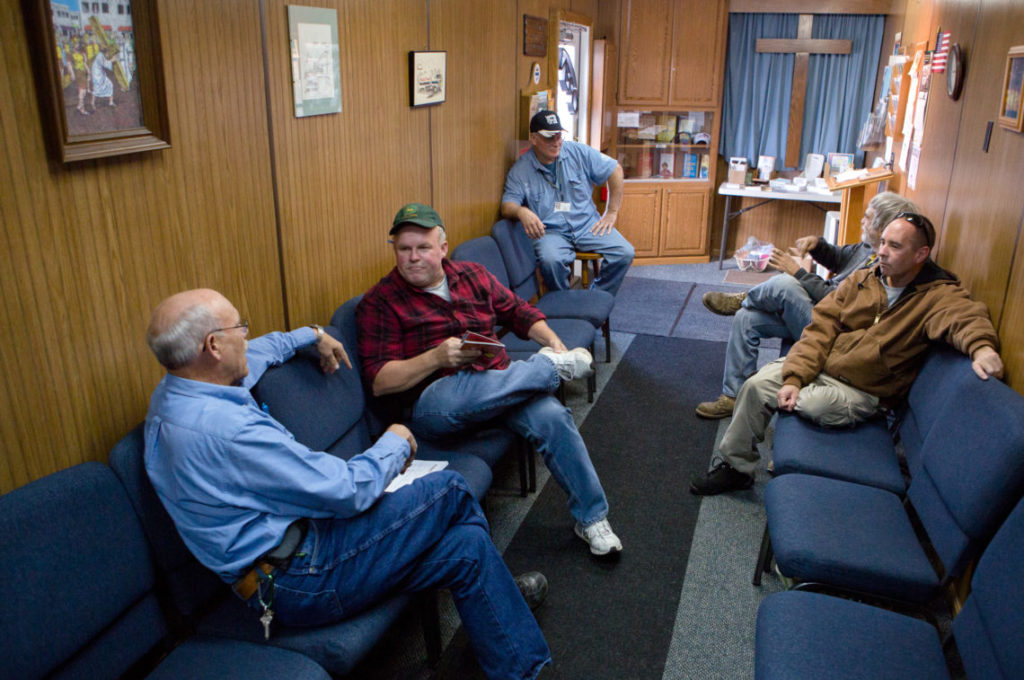 LEFT: TFC volunteer Ron Nank. RIGHT: Truck drivers socialize with chaplains at the TFC mobile chapel in Seville, OH, in 2013. 
But some of the more striking ways TFC caters to drivers here are audible, rather than visible. Most notable is the quiet atmosphere of the chapel interior, a marked contrast to the roar of truck engines and the din of the nearby travel center, where infomercials blare on television and well-stocked refrigerators hum incessantly. The chapel offers a measure of calm and respite from the noise of truckers' daily routines – and yet, one that's not far removed from this familiar environment. The faint rumble of truck engines is ever present, fading into a comforting white noise just outside the chapel walls.

Sermons, hymns, and prayers also address the issues drivers encounter during their lives on the road, including physical ailments, such as neck pain. But especially audible inside the chapels are informal conversation and banter. Transport for Christ provides a place for drivers to socialize and take a break from the monotony and isolation of the road. Many of them are part of the white, blue-collar demographic that Donald Trump appeals to, and often vent their frustrations about industry regulations, deteriorating infrastructure, immigration, and marital stress, among other issues. The chaplains provide a sympathetic ear.

"When things occur back home . . . there's not much you can do about it when you're long distance out here. It's a lot of stress," explained truck driver Peter Douglas, who lives in Massachusetts, but regularly drives through Ohio and visits the Seville chapel. "But you can come in and talk to the chaplains, and they'll help you try to figure out some ideas."

"We are…just trying to create a conversation, and just kind of build a relationship, as short as it usually is," said volunteer chaplain Gary Nussbaum, Jason's father. "But you never know what will take place from there."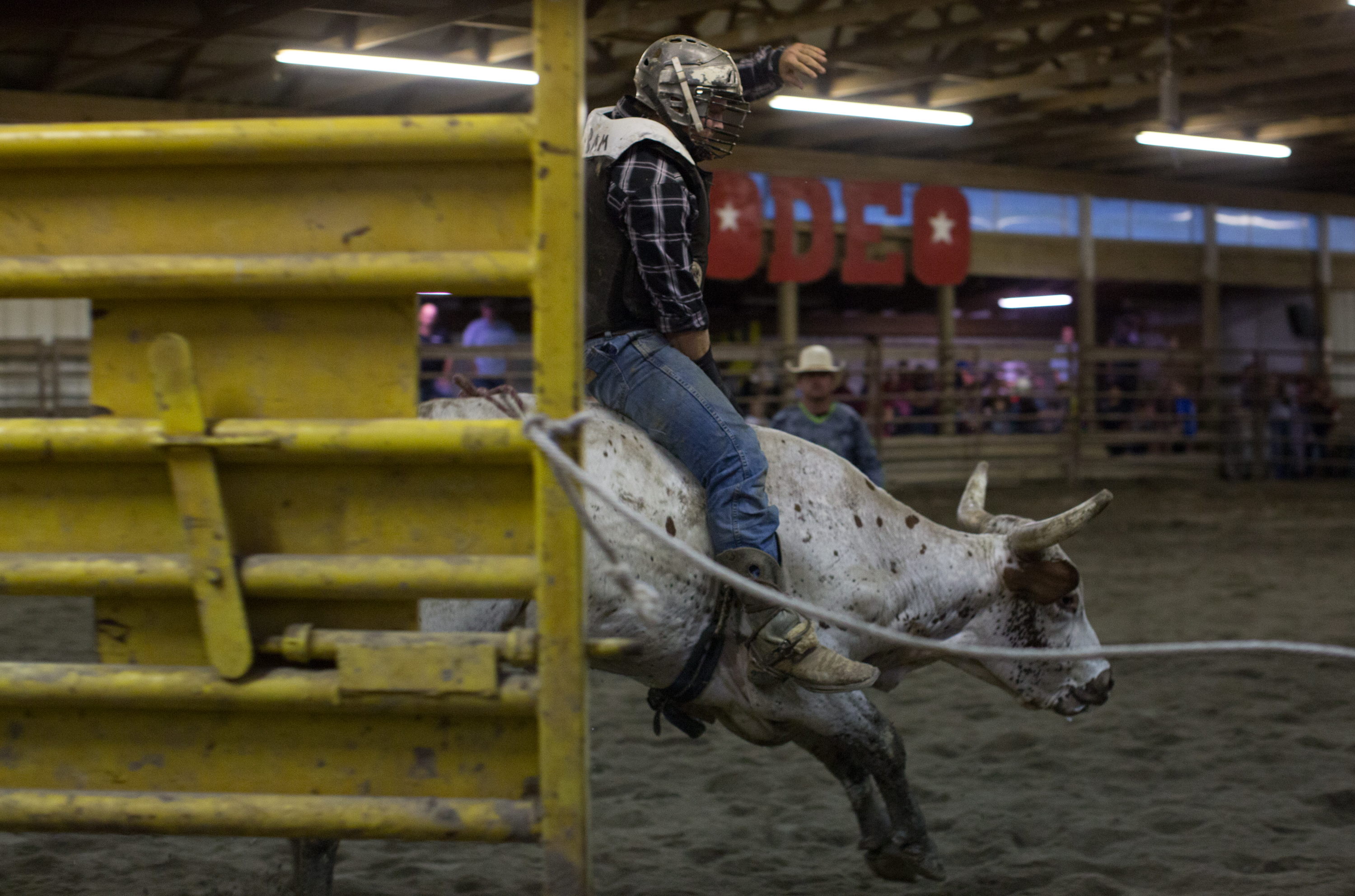 Sounds of a Cowboy Church service and rodeo in Lebanon, OH, in 2017. 
On the first Friday of every month, Pastor Lawrence Bishop II hosts what he calls "Cowboy Church" in a dusty horse barn just off of Union Road in Lebanon, Ohio. As pastor of the nearby Solid Rock Church, Bishop is accustomed to preaching to a congregation. However, as a longtime horse trainer, he also sees his barn as a unique opportunity to share the Gospel with horse and rodeo enthusiasts, as well as members of the general "unchurched" population – people who have not accepted Jesus Christ as their savior. An audience of about 100 filled the barn and rickety bleachers for the Cowboy Church service on August 4, 2017.

"There are a lot of people that will come to a cowboy church that will never set foot inside a traditional church, especially if people say, 'Hey, let's go hear a live band . . . and watch some bull-riding . . see a free rodeo,' " Bishop said. "You'd be shocked."

Sound offers a unique window into Bishop's efforts, illustrating the ways he combines Christianity with rodeo culture, and how, in doing so, he attempts to make it familiar and undaunting to his audience.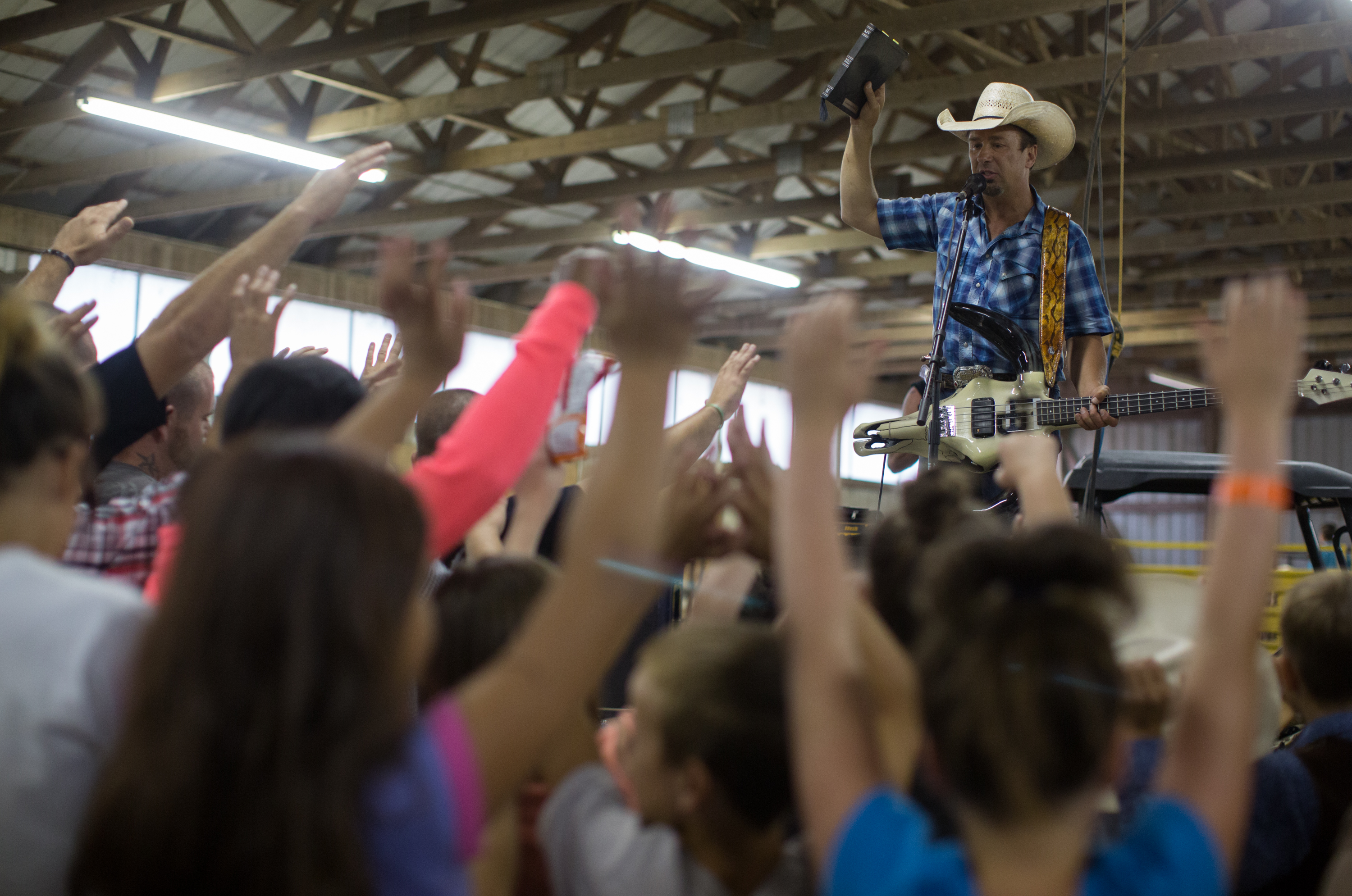 Pastor Lawrence Bishop II holds an altar call during the monthly Cowboy Church service and rodeo in Lebanon, OH, in 2017. 
One example is the music he plays at the beginning of each Cowboy Church gathering, which is similar to what one might hear at a secular rodeo or other sporting event. Standing on a wagon in the center of the dirt arena, Bishop grips a bass guitar, which he fashioned out of a cow skull, and sings into a microphone with a deep, growling voice. Christian lyrics – for example, "If you want to go heaven boys, you better listen to me" – are integral but subtle, and sometimes are barely perceptible over the heavy instrumentation.

"I think classic rock-styled music is good for the non-churched, to draw them in," Bishop said. "Kind of a sneak attack on them," he chuckled.

The Christian music also mimics the clanging and banging of nearby animal pens, as well as the shouting of rodeo hands.

Before the rodeo begins, Bishop delivers a brief sermon, which offers another illustration of his tailored evangelical efforts. Like a rodeo event, it is brief – approximately three to five minutes in duration. He peppers the condensed message with relatable livestock analogies. And when he praises Jesus, he sometimes shouts, using the same pitch and tone that he will use later to announce bull riding and bareback riding. Bishop audibly transforms the energy of the rodeo into enthusiasm for Jesus, until the two become almost indistinguishable.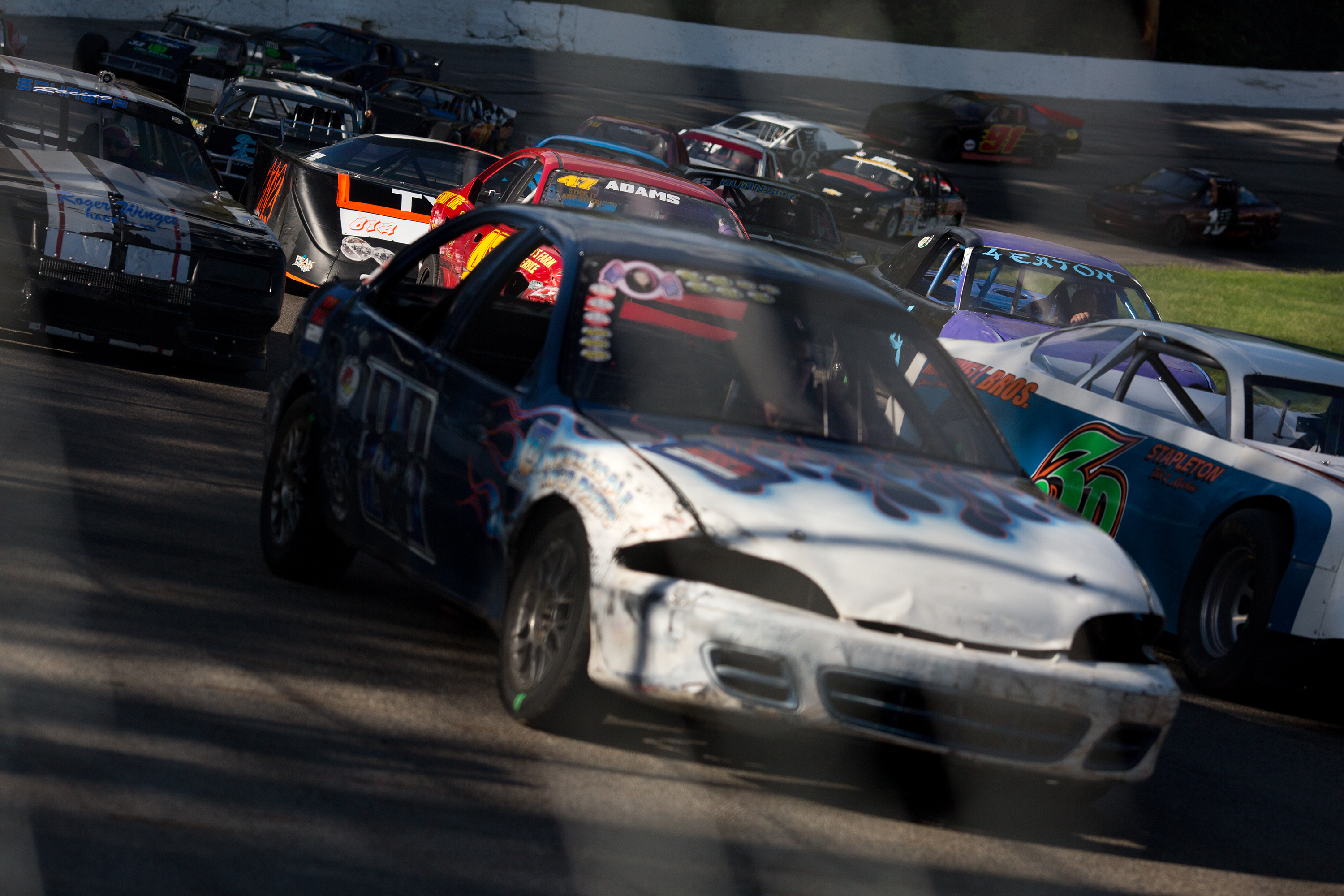 Sounds of Raceway Ministries and racecars at Shadybowl Speedway in De Graff, OH, in 2016.
At Shadybowl Speedway, an oval strip of asphalt tucked away amongst the cornfields of De Graff, Ohio, hundreds gather on summer evenings to watch racecar drivers compete on "the world's fastest 3/10th mile speedway," as the raceway is known. At Shadybowl, engines roar, confederate flags fly freely, spectators yell, and drivers labor in the pit.

There is no chapel at Shadybowl, but there is a chaplain. And similar to his counterparts in other mobile Christian ministries, Kermit Wilson, part of an organization known as Raceway Ministries, tailors his efforts to a specific demographic.

This is especially notable through sound. Rather than remain in a fixed location, Kermit circulates the raceway, stopping to chat with and pray for drivers or anyone else who desires his help. Almost having to shout over the roar of cars in the background, Kermit offers prayers that are specific to the needs of drivers: requests for the safety of their cars, and for a good performance in their upcoming races.

"Pray for Chris as he races here today, and the crew that helps here, Lord," Kermit says, holding hands with a driver and several others in the pit area of Shadybowl Speedway. "Just pray that you guide them in making the car set upright. And just bless Chris with the talent that you have blessed him with, Lord, to be able to get out there and drive good."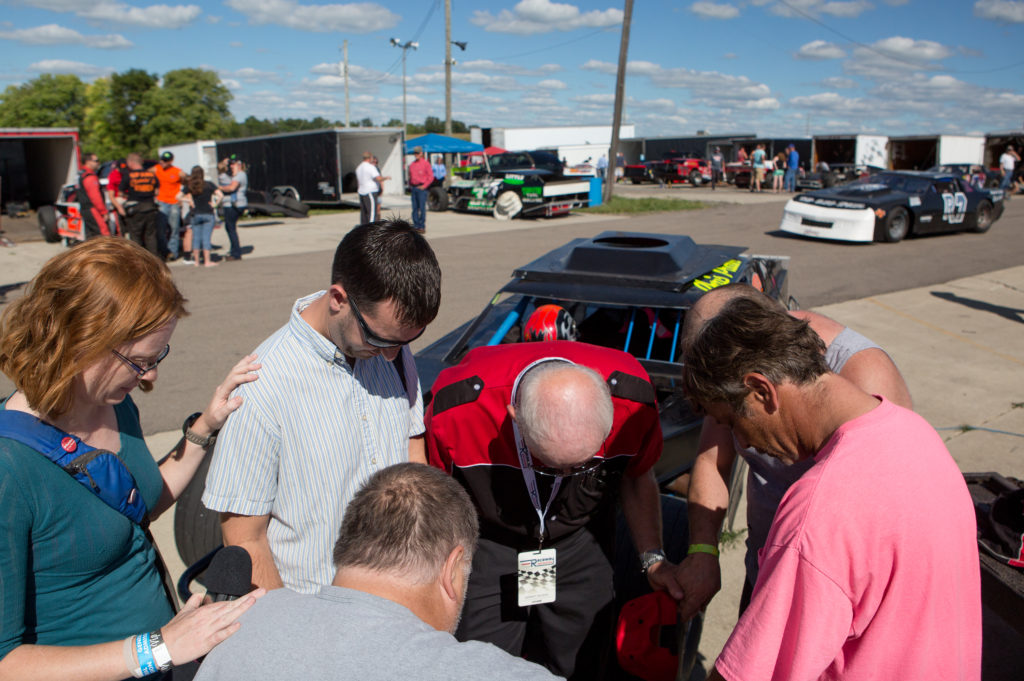 LEFT: Chaplain Kermit Wilson prays with racecar drivers in the pit area of Shadybowl Speedway in 2016. RIGHT: A racecar driver with a cross tattoo at Shadybowl Speedway in 2016. 
The chaplain also keeps his prayers and conversations brief as he makes his way around the track to visit as many people as possible. Like the drivers here, Kermit demonstrates speed and efficiency.

He later explains: "With the racing business in particular, if someone says they want prayer, they don't want you to get the book out, write down their name, and say, 'I'll pray for you at church.' They don't want that. They want it right now."

Kermit also has a unique way of reaching spectators at this and other speedways served by Raceway Ministries. Rather than delivering a sermon from a pulpit, Kermit offers an invocation over the speedway's squeaky loudspeaker, the same one that broadcasts the voice of the racetrack announcer and the patriotic song "God Bless the USA." Additionally, sometimes, Raceway Ministries will set up a tent and offer cookies and water to spectators who are drunk.

"I feel like God wants everybody to have the opportunity to live an eternity with him, and somebody has to go out and plant the seeds," Kermit said. "You got to go out where they are. You have to talk to them. You have to make friends with them. You have to care for them. You have to love them."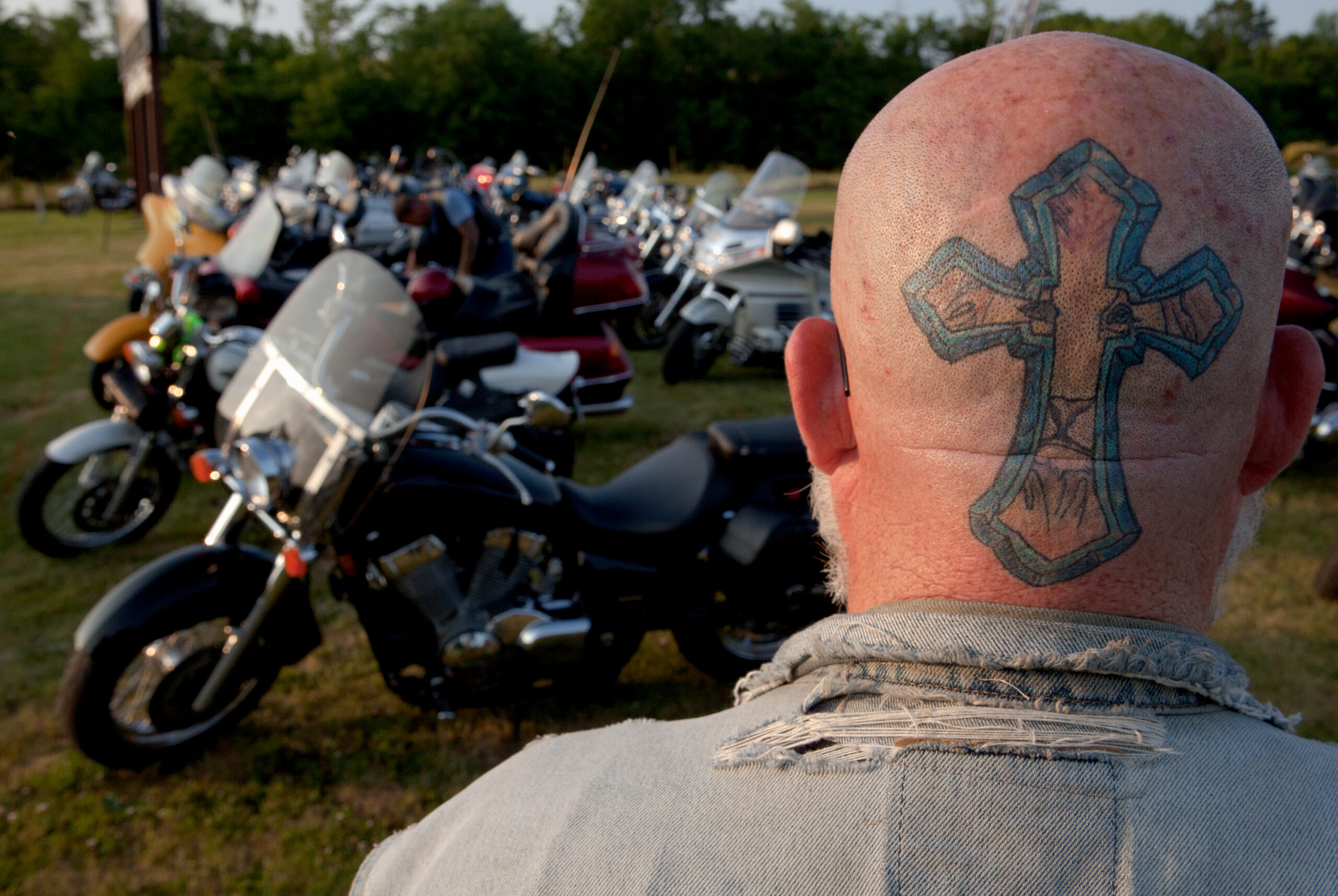 Sounds of the Rushing Wind Biker Church in Zanesville,OH. Above, Dennis O'Bryan outside of the church during BikerFest in 2013. 
On Interstate 70 near Zanesville, Ohio, it's hard to miss the giant billboard for Rushing Wind Biker Church, decorated with a graphic of a bald eagle embracing a cross. "ALL ARE WELCOME," the sign reads in bold, red letters. "Next Exit, Turn Rt 2 Mi."

The Rushing Wind church, founded in 2010 by members of the international Bikers For Christ Motorcycle Ministry, is one of several of its kind in the country, and part of a much larger motorcycle ministry movement. It is open to anyone, but as its name implies, it caters mainly to bikers, many of whom say they feel unwelcome in mainstream Protestant churches. Services occur every Saturday night and attract upwards of 50 people.

"Because of my tattoos, a lot of people didn't accept me or didn't want me there, weren't really welcoming, or just thought I was there for the wrong reason," said biker Nick Buxton, who attends Rushing Wind. "So I just kind of bounced around from church to church."

Like other mobile ministries, Rushing Wind (and Bikers for Christ) combines Christian outreach with elements of a specific culture, working to welcome bikers and make them feel at ease. Some of these efforts are heavily visual. Rushing Wind is located inside an unassuming, warehouse-style building adjacent to the highway, and Pastor Mike McGuire, in a sleeveless t-shirt and jeans, leads services from a brushed steel pulpit, where a chainlink microphone stand also rests. Church congregants wear leather jackets and jeans, and sport Jesus tattoos and Christian jacket patches.

But the sounds of the Rushing Wind Biker Church further suggest how it reaches out to bikers. During a designated "hang-around" period prior to Saturday night worship (similar to the "hang around" activity found at most motorcycle clubs), billiard balls clank on pool tables. Guitar chords waft from a nearby stage as Pastor Mike and his band, "The Wind," play Christian versions of popular rock songs, such as "Sweet Home Hallelujah." During BikerFest, an annual worship event at the church, services are held outdoors in a large tent, where the pastor's voice mixes with the roar of nearby interstate traffic. These ambient sounds allude to common biker experiences and pastimes, creating a familiar, accessible environment.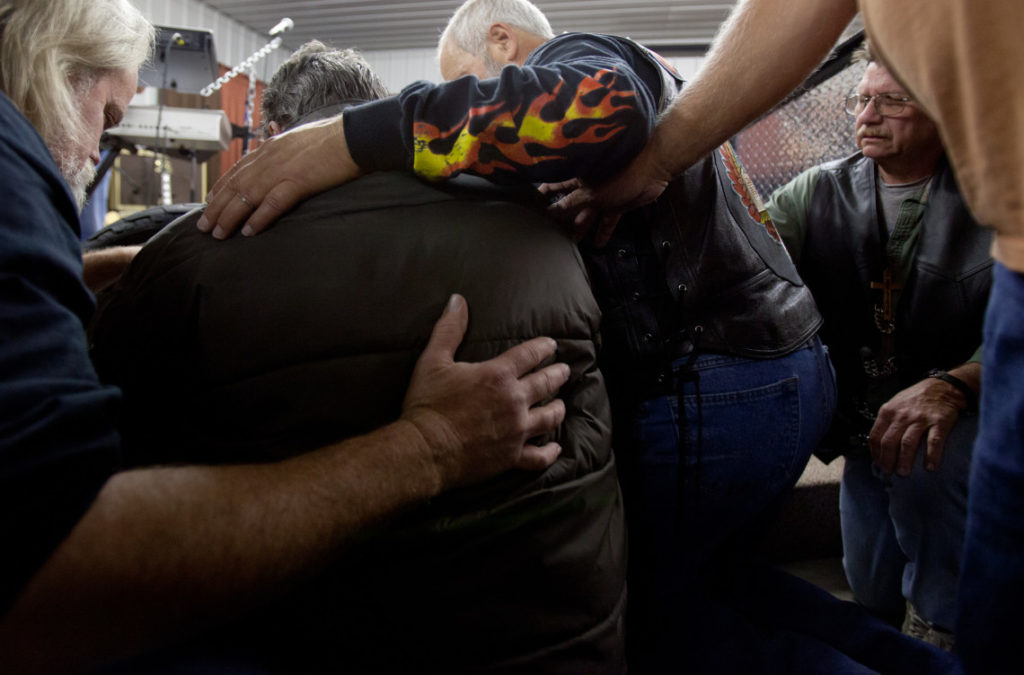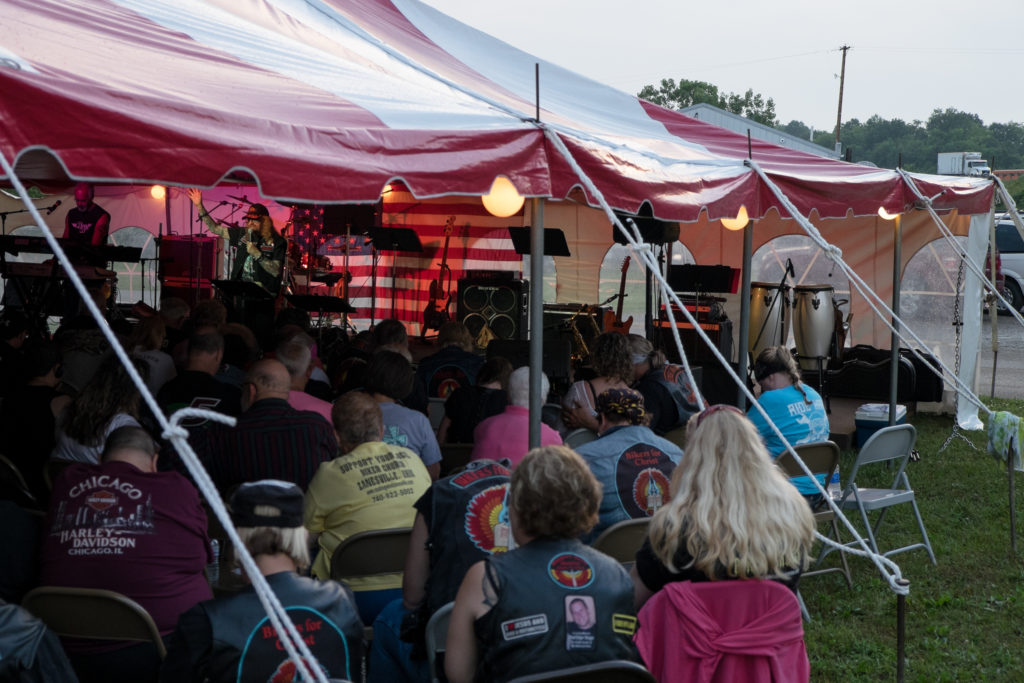 LEFT: An altar call at the Rushing Wind Biker Church in Zanesville, OH, in 2012. RIGHT: Pastor Fred Zariczny preaches during BikerFest outside of Rushing Wind Biker Church in Zanesville, OH, in 2015. 
"It's a little easier for a biker to come into this sanctuary because of the fact that we don't judge them. We don't judge them on the way they dress, the way they look, what kind of ink's on their skin," Pastor McGuire said. "We want them to come in so they can hear the Gospel of Jesus Christ and let God do the work on the inside for them. That's what we do here."

And then there are the church sermons, which speak to many bikers' personal histories, particularly those who have belonged to motorcycle gangs and so-called "one-percenter" clubs, like the Outlaws and Hells Angels. Most often, the sermons carry messages of forgiveness and redemption, and are tailored to those in the congregation who have dealt with drugs, crime, and violence.

"But the bottom line . . . all things work together for good," Bikers For Christ founder Fred Z. preached at an outdoor service in 2013. "Even though I was running around with those kind of folks, God used that, in my life, to be able to minister to them. And there a lot of people in this congregation tonight that came from the same place. God called you out of darkness into his glorious light."

As he spoke, traffic roared on the interstate behind him.
Audio recording by Caroline Toy, Lauren Pond, and Isaac Weiner
Photography, exhibit design, and production by Lauren Pond