Participants in a Columbus, Ohio procession for Our Lady of Guadalupe walk down East Livingston Avenue toward Christ the King Catholic Church in December 2016. 
Procession for Our Lady of Guadalupe
According to legend, during the 16th century, an apparition of the Virgin Mary repeatedly presented itself to a Mexican peasant named Juan Diego and asked him build a shrine. A local Catholic bishop was skeptical about Diego's encounter – that is, until an image of the Virgin appeared inside of Diego's cloak for the bishop to see. The story of this miraculous appearance – and that the Virgin had a dark complexion, and spoke the local language – played an important role in the conversion of Mexico's indigenous people to Catholicism.
Now known as Our Lady of Guadalupe, the Virgin has become an integral part of Mexican history and culture, "a powerful symbol of devotion, identity, and patriotism." Our Lady of Guadalupe appears in numerous contexts, religious and nonreligious alike. Every December, Mexicans, Mexican-Americans, and members of other Latino communities honor her through processions, dances, and folk traditions.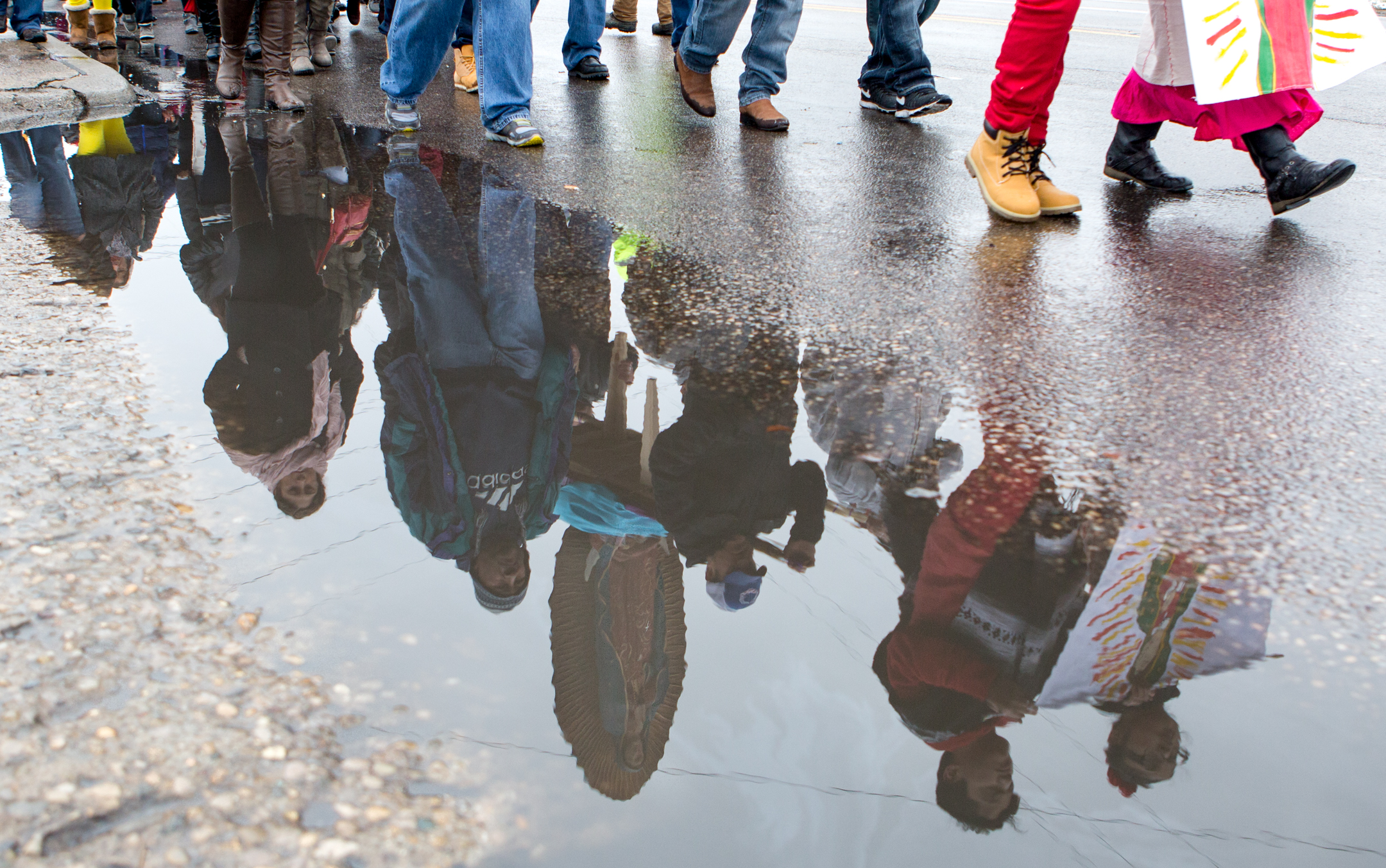 Participants trudged through winter slush during the procession, making their labored footsteps especially audible. 
On December 11, 2016, scores of Latino Catholics gathered in the southeast part of Columbus, Ohio, for one such procession. Accompanied by priests and nuns, they trudged more than a mile along the snow- and slush-covered streets while carrying crucifixes and statues of the Virgin. Some participants used megaphones to lead songs and prayers in Spanish, the rush of passing traffic occasionally interrupting them. A steady drumbeat punctuated the labored noise of sloshing footsteps.

At a time of heightened anti-immigrant sentiment, this audible, assiduous embrace of ethnic heritage is deeply symbolic, suggesting the indelible presence of multiculturalism in the American public sphere.
Audio recording, photography, exhibit design, and production by Lauren Pond